MMU 2.0.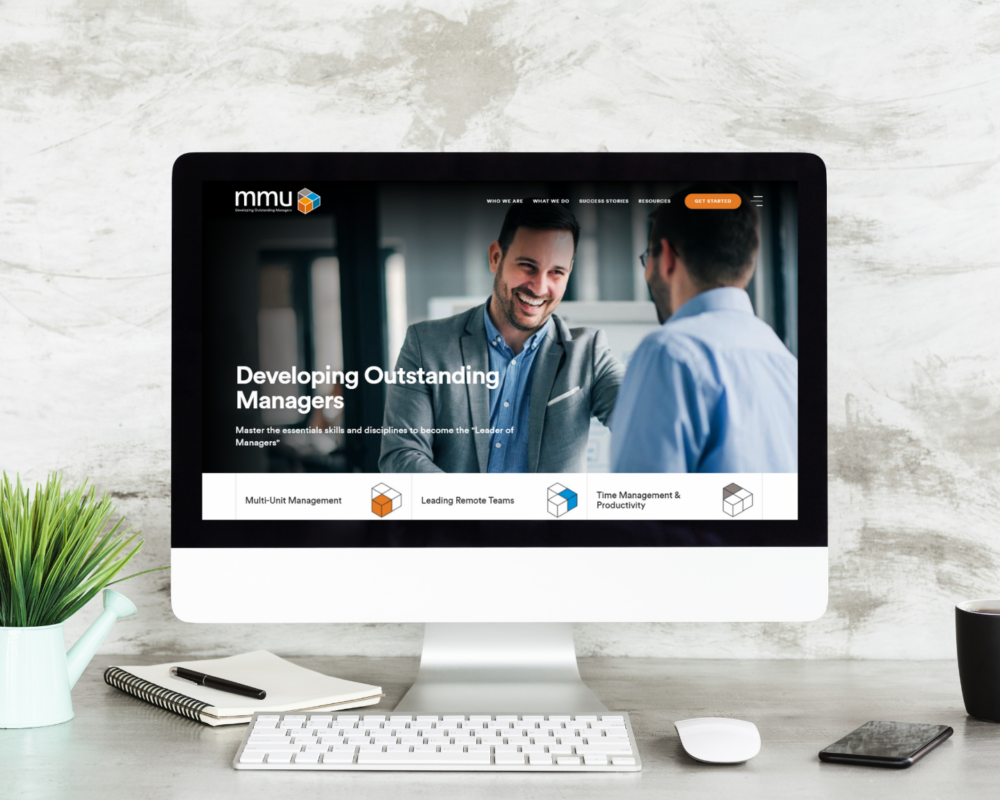 Transcript Below
I've just been reflecting on a great week.
Firstly, our new website goes live. More about that in a moment!
I've just co-hosted a webinar with over 50 people, helping colleagues in the hospitality sector get ready to reopen but to be BETTER than ever before.
And I've got my first onsite delivery session with a client this week for who knows how many months (is it just me or does it feel like day-release?)
It just feels like things are getting better now and that's not to discount what we've all gone through over the last 12 months. Everyone knows the impact on livelihoods and lives.
But I do think that things are changing, things are getting better.
At MMU one thing that has not changed is our passion for developing people. We believe that every single person deserves to have a great manager, it's almost that in the 21st century it feels like it should be a human right or indeed something that employers have a legal duty to ensure all their employees work for a great manager!
At MMU, for over eight years now, we've been helping develop outstanding managers and we have a very clear focus on three areas.
Firstly, multi-site or multi-unit managers. These are people often classed as area, district or regional managers. We call them the "manager of managers".
Indeed, we want them to become the leader of managers. We know that this role is pivotal in any multi-site organisation and that they are the key enabler (or at worst "blocker") that will determine whether the organisation delivers superior, sustained performance.
One of our mantras at MMU is that "the road to operational excellence is paved with discipline, and consistency". I know they're not necessarily the sexiest words, the most exciting things to talk about. But discipline and consistency are the hallmarks of operational excellence.
The second and quite frankly, related group, is that of remote managers; those people who are leading a team from afar. Of course, that's applied to many, many more people in the last 12 months and will continue to do so. The challenges of remote management are not just the physical obvious issues. What are some of the disciplines and the best practices remote managers can learn to adopt and implement?
And MMU's third focus area, which absolutely ties into both multi-site and remote leadership, is time management and productivity.
Lee Cockerell, former Exec VP Ops at Walt Disney World put it really well when he said: "It's not about the hours we put in. It's about what we put into those hours."
How do we determine what is truly important and not just what is urgent?
Now, something that absolutely cuts across everything is how consistently and effectively managers facilitate great one-to-ones with their team. This is something we're pretty evangelical about at MMU.
Our subscribers have recently had the opportunity to download a document "Better One-to-Ones. Better Results." to help them plan and conduct effective one-to-one meetings that make a difference.
If you're interested in doing so, click on the link below this video and you can access this on our new website. I have to take a moment as I'm really proud of the work that we've done here, to say thank you to the people who have helped make this a reality.
First up, my colleagues Andy Bull and Daniel Mills, but also our partner, Andrew Kemsley, for helping with the website copy, adding that extra polish.
The actual website design itself has been a labour of love with the fabulous team at RBK Marketing and I can't thank Matt and Beck enough for all of their work. To the design team at Fusional who once again stepped up to the plate to help with the visual elements of our marketing copy and materials. And most recently the wonderful Chloe Michel, who guided us through the process of creating a marketing and social media campaign.
To all of you I say again "Thank You" and to everyone else I want you to know that I can't recommend these individuals and their businesses enough for the great work they've done on MMU's behalf!
So please, have a look at the website. I hope you like it! Let us know what you think!
If you believe what we believe, that everyone deserves to have a great manager, and would like to find out how MMU could support you to embed the disciplines that great managers consistently display, drop us a line.
Let us help you to have the managers your business and your team deserves.
Together, let's develop some outstanding managers.
#multiunitleadership #multisiteleadership #multisitemanagement #leadershipdevelopment #multiunitmanagement #areamanager #districtmanager #regionalmanager #leaderofmanagers #mmu #operationalexcellence #remoteleadership #timemanagement #training #personaldevelopment #personalproductivity #onetoone #oneonone #trainingprovider #restaurants #restaurantmanagement #retailmanagement #hospitalitymanagement #hospitalitytraining