PAUL UK – sales growth of over 20% for bakery chain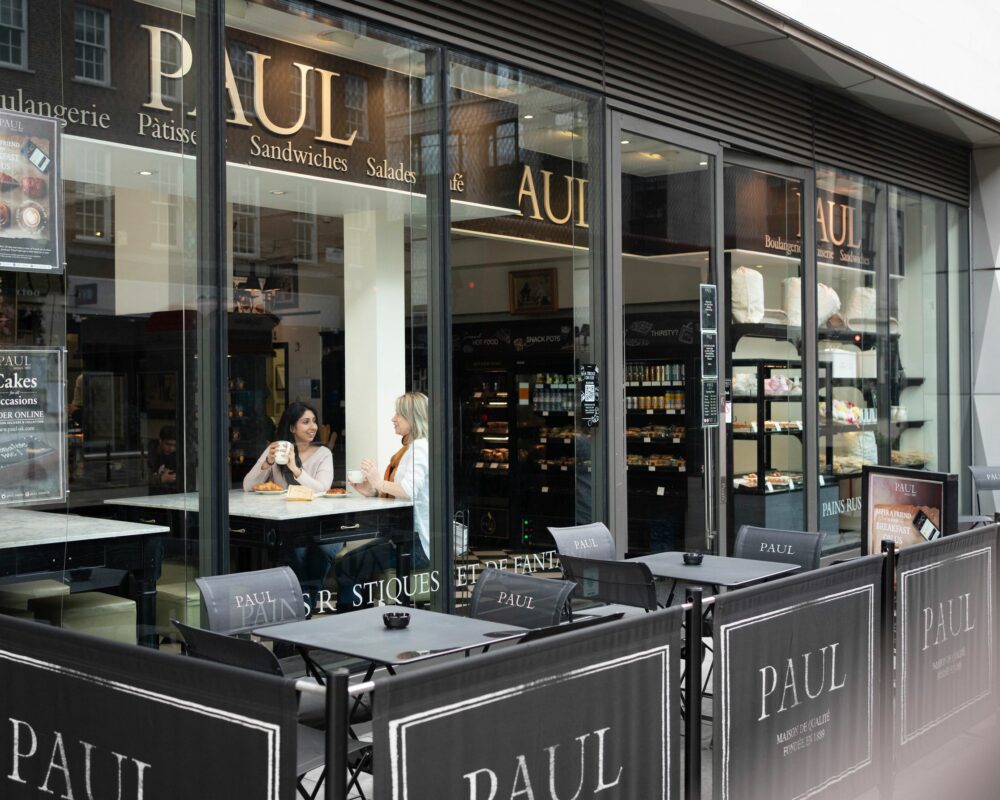 PAUL is a French chain of bakery/cafe restaurants operating in more than 37 sites in the UK, with a worldwide presence in over 20 countries.
Challenges
In the UK, Operations Director, Gary Cowles, felt his five operations managers (OMs), all critical to the success of the UK business, required greater structure and consistency.
Like any business operating at scale, some OMs were experiencing a decline in like-for-like sales and failing to meet their revenue budgets. It was clear to Gary that his OMs needed to adopt a new approach to structured monthly business reviews and store visits that would see their management teams truly own the flawless execution of their action plans.
Using simple but effective techniques, MMU helped OMs to significantly improve performance over a 12-month period.
Actions
Part of our work with PAUL was delivering workshops on the following specific focus areas:
Conducting a 360 feedback process with the OMs – Using MMUs own competency framework and 360 feedback platform, each OM asked their store managers (SM), colleagues and line manager for feedback on specific activities and behaviours.  Two rounds of 360 feedback were conducted a year apart to enable PAUL to identify the behavioural changes that its people were seeing among the OM team.

Creating a structured monthly business review (MBR)

– We worked with the OMs to develop a straightforward tool to encouraged SMs to "own" their results by being expected to analyse and comment on the reasons for good and poor performance. Once piloted, the MBR process was cascaded across the SM population, with MMU observing and feeding back on its implementation.

Developing a focus 90-day action plan

– OMs identified 1-3 "Big Rocks" for the next 90 days, that covered sales, labour, margin/COGS and people development. We coached OMs in creating detailed goals that included clear measures (and timescales) alongside specific actions that would be taken to help achieve the goal (each one with owners and deadlines). High leverage, repetitive steps were identified that clarified the proactive commitments being made by individuals that would need frequent completion, as well as one-off key tasks.
A critical impact store visit structure – In collaboration with the operators, MMU developed a critical impact store visit structure that set out a consistent (but not overly prescriptive) approach for OMs to follow during the visits they made during the quarter. OMs reported that the structure kept them focused on relevant aspects of their 90-day "Big Rock" action plans to resolve the most pressing challenges. Significantly, they saw how simple behaviours discussed in the programme – such as asking a manager at the end of a meeting to recap the agreed action points – led to greater clarity and delivery of the steps needed to boost performance. Follow-up became the norm, but from the perspective to catch people doing things right, not wrong! For example, OMs reviewed each manager's daily shift briefing to their team when revenue goals were broken down and recorded, with team members encouraged to set their own sales targets for the shift. Performance was reviewed daily, with SMs being asked to send videos of the daily shift briefing to their OM so that they could see the quality and content of the briefings being delivered, providing an excellent opportunity to recognise and share best practice.
Recognising performance improvements – Commonly available tools, such as WhatsApp, were used to recognise success and encourage even greater performance.  Importantly, MMU focused managers on celebrating the most improved personal performance (shift-on-shift) as well as recognising the top sales performers. This showed individual team members how much they were improving, giving them confidence to push further. The additional benefit was the help this approach gave to demonstrating how growth can be achieved through a culture of shared success.

Outcomes

One of the critical elements in the success of the programme was the endorsement and active involvement of the Ops Director, Gary Cowles. And it's because of his reinforcement of the programme, coupled with his disciplined approach to allowing the OMs to remain focused on executing their action plans, that we were able to see such impressive results.

Positive behavioural changes in OMs

We used a five-point scale, based on how consistently the OM demonstrates the given behaviour, to gauge improvement over the course of the programme. Here are just a couple of the highlights:

"Conducts structured monthly business reviews with managers/teams" – Increased from an average of 3.9 to 4.7/5

"Creates detailed quarterly action plans, reviewed regularly" – Increases from 3.8 to 4.4/5

Sales growth of more than 20%

12 months in and December saw sales growth of more than 20%, resulting in the business exceeding its sales and profit targets for the first time in several years. Despite tough trading conditions in the UK market for the hospitality sector, Paul UK saw like-for-like sales rise 3.4% for the year, with turnover up 7.4% to £38m.
The OMs are acting in a consistent manner, and, quite frankly, behaving as professional OMs should. I can't emphasise enough how much the MMU programme has helped them to demonstrate the behaviours we needed and to keep them focused and on track.
Gary Cowles, Operations Director, PAUL UK
Start the conversation
and see how MMU can help you achieve positive results for your business
Get started today