Appreciation, recognition and encouragement – burn the free fuel!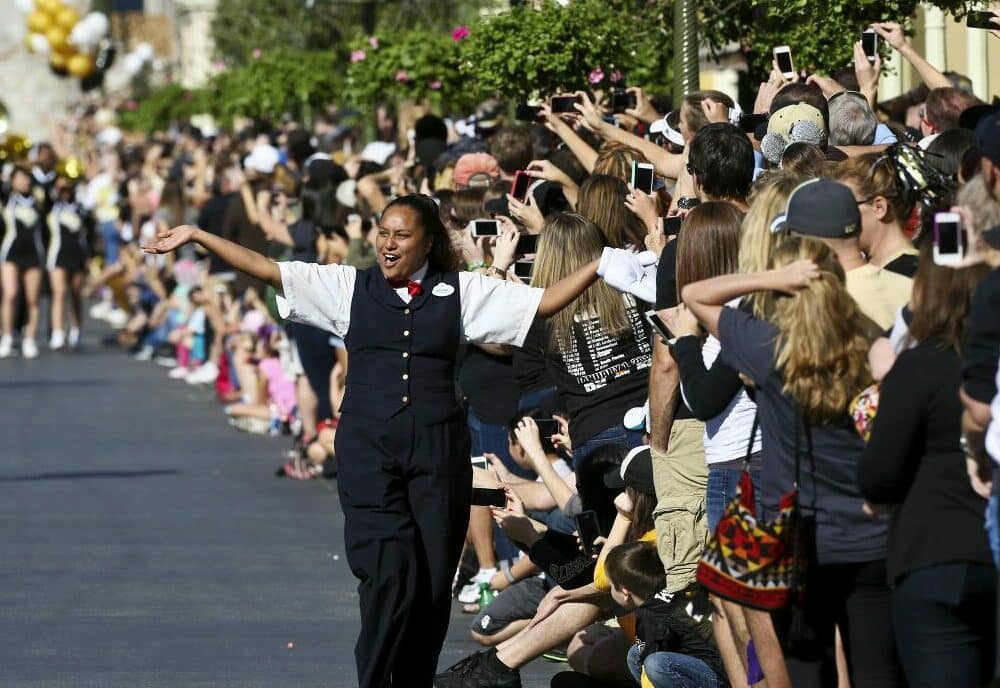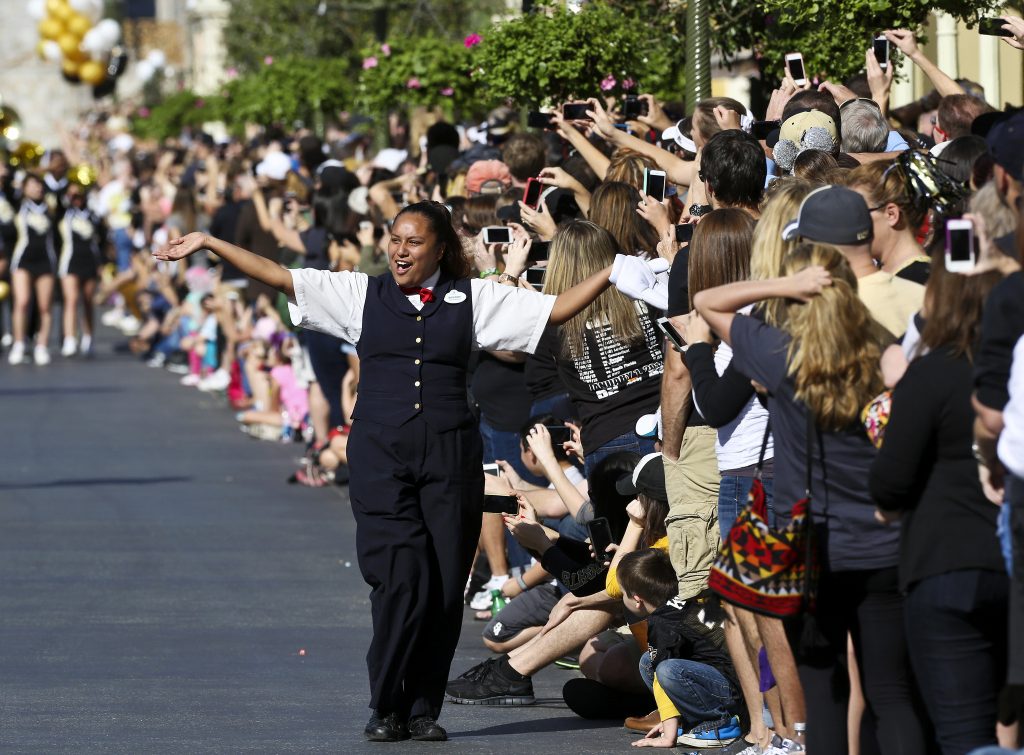 Appreciation, recognition and encouragement = A.R.E 
My summary of Lee Cockerell's book Creating Magic continues with perhaps my favourite strategy from his work; "Burn the free fuel". As Lee quickly explains, this refers to the importance of proactively looking for opportunities to provide appreciation, recognition and encouragement (or what he calls "A.R.E!") to other people.
Together these make up a cost-free, fully sustainable fuel, one that builds self-confidence and self-esteem, boosts individual and team performance, and keeps the organisation running cleanly and smoothly.  
After all, when was the last time you thought, "I'm getting way too much appreciation, recognition, and encouragement! I can't take anymore!" I know I've never had such thoughts. 
The following tips will help you find those opportunities to give out the free fuel of A.R.E: 
Spend meaningful time with employees
Lee liked to spend time with fellow Cast Members, asking them to walk him through their daily tasks and show him all the great things they were doing for the Guests. "Yes, this all took time to do but they're vital in demonstrating to people that they matter and that YOU know it. We couldn't do it without you!"
Of course, they also helped Lee to keep connected to the real world but they were an invaluable opportunity to dole out A.R.E! 
Participating in employee events is also important, whether these are large, formal events or smaller, intimate celebrations for someone's birthday, wedding anniversary or retirement party. We all want commitment from our employees and the best way to get that is to show you are committed to them.  
Recognise employees by name
If you have too many names to remember, use your smart phone or similar device to record names (linked to departments, areas or teams). Ultimately, this is all part of seeing people as individuals, so don't underestimate the emotional impact of calling someone by their name.  
Catch people doing something right
Like good parents, the best leaders accentuate the positive and reinforce it constantly. They know that people do their best work when they're confident, and nothing fuels self-confidence like positive feedback from a leader. "You have to go through the heart to get to the brain, and A.R.E goes straight to the heart". 
Train yourself to notice the good stuff, not just the wrong. And when you see it, reinforce it quickly, with specific feedback. 
Consider how you can deliver recognition, email, verbally, monetary, a small pin or a hand written note; people are different and thrive on different levels of "hoopla"!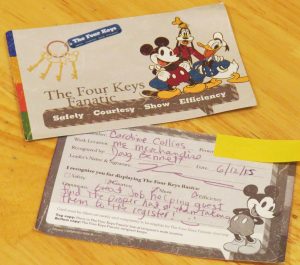 When reviewing guest letters in the morning, Lee always looked for examples of great feedback where the Cast Member is mentioned by name. He took a copy of the letter, attached a reward pin, wrote a personal note of thanks and sent it to the Cast Member's manager. Why not the Cast Member themselves? Because now they get double positive feedback in the form of their manager as well as the vice-president of operations – double dip feedback indeed!
Regarding the award pins, Lee introduced two different types. Two versions had Mickey Mouse figures on them "You created Magic" and "You're a Disney Star". Another pin, given for leadership excellence had simply the word "leadership" against the familiar logo of a mouse face and ears. Other pins featured the Seven Dwarfs (see the seven principles of great service we shared in my earlier blog Create magic through training). 
Disney has other ways to dole out A.R.E. The Recognise Everyday Magic toolkit makes it easy for managers to acknowledge Cast Members as they go about their daily business. These kits consist of Recognition Sticky Notes, Recognition Thank You cards and envelopes and Recognition Praise Cards.
Remember, a gesture that may seem silly to you might mean the world to an employee, and it will be repaid in loyalty, dedication and extra effort. For many workers, just hearing their leader say thank you on the phone or even on the voicemail would make their day. 
Make it public
Formal recognition events are important in any organisation and Disney is no exception. In addition to giving out individual recognition at various events, the company honours all Cast Members with its annual Cast Holiday Celebration. From late November to early December, Cast Members and their families and Guests can visit any Park for free, receiving family photos, holiday gifts and special discounts on meals and merchandise. In addition, every department has an annual budget for parties. 
The annual Partner In Excellence award is given to Cast Members for excellence in one of three categories: 
Guest satisfaction 

 

Cast excellence

 

Operational/financial excellence

 
Awards are given at a fancy ceremony and dinner, with distinguished speakers. Winners receive a special Partners-In-Excellence pin and a bronze statue of Walt Disney and Mickey Mouse (who you could say were the company's first partners in excellence!)  
Guest letters and emails are read aloud during shift briefings, and award pins are very often given out during these team briefings. Letters and comments are also printed out and captured in Eyes & Ears, the bi-weekly company newsletter for Cast Members.
Another Disney tactic to deliver A.R.E is the Great Service Fanatic cards. Any day, at any time, leaders and peers can fill out one of these folded cards and give it to a Cast Member who did something to surprise or delight the guests. The recipient keeps a duplicate of the card, which describes their special performance in detail, and gives the original to their leader to sign. 
Each month a number of cards are randomly drawn, and a "Prize Patrol" goes around making award presentations to the winning "Fanatics", complete with prizes, balloons, pixie dust and photo opportunities. Lee stresses how much this little celebration means to the recipients or how strongly it reinforces the qualities of performance excellence that Disney stands for. 
One way to give out effective A.R.E publicly, is to do it privately? Hang on a moment, isn't Lee contradicting himself here?! 
No. What he means is this: you can express appreciation for someone when they are not even present by simply telling other people what a great job the person is doing by describing something special that they did.  
"Always remember to speak well of people in their absence. It's a powerful means of positive reinforcement precisely because it's not likely to stay private; nine times out of 10 the person you praise will hear about it, and so will others, who will want you to speak well of them too."
Include their families
Whenever possible, include the employee's spouse, partner, children, friends or other loved ones to share in the recognition. But just don't stop at special events, consider sending a thank you note to spouses and partners at other times, perhaps to recognise the extra work and effort that their partner has been putting in at work and the inevitable impact this might have had on them at home (and others around them).  
Recognise and encourage good ideas
This is an important part of A.R.E. Disney publish a quarterly newsletter You Said…We Listened which details ideas from Cast Members and the response from the organisation. Of course, nothing delivers A.R.E more than following through and implementing their ideas! 
Give extra A.R.E to frontline employees
These are often the people who can get overlooked and are more likely to be degraded, reprimanded and given heat by customers.  
At Disney everyone at every level is made to feel that they are an essential part of the organisation, whether sweeping sidewalks, clearing tables or selling souvenirs. "You are Disney" Lee told people on his rounds, and they believed it because they knew Lee believed it. 
Of course, you can be tough, and you can tell it like it is, but your frontline employees should always know that you're on their side and that you appreciate what they bring to the organisation. 
Make A.R.E a natural part of your routine
Don't be stingy, there is no excuse for not giving away copious amounts of A.R.E.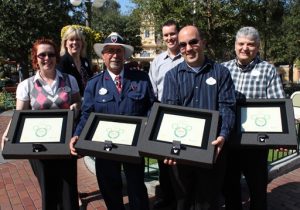 If a manager feels uncomfortable doing A.R.E face-to-face, then concentrate more on writing up feedback and sending letters, emails and cards etc. Eventually most leaders will want to deliver A.R.E in person! 
If you can make this a natural part of your behaviour, you will turn the workplace into somewhere special, and you will be recognised as an inspirational leader who cares. To help you remember to do this, schedule it into your planner or to-do list.  
Every day Lee used to write down in his DayTimer the names of the people he wanted to acknowledge, not just employees who performed well or did something exceptional but also those who needed extra support, whether they were injured, had lost loved ones or had children who were struggling in school. Remember, for some, a workplace with heart can be a place of refuge.  
Watch your language
Words matter. So make sure your workplace vocabulary conveys the appreciation and respect you have for your employees.  
Do not underestimate the power of word choices, if you can find substitutes for unflattering terms and come up with language the captures the spirit of your organisation the way Walt Disney did with "cast" and "on stage", your employees will feel more respected, appreciated, and valued. 
"A.R.E is more powerful than the fuels that make engines roar and space shuttles soar, because it propels human energy and motivation. Unlike costly, non-renewable fuels like oil and gas, its supply is inexhaustible. 

You can give out A.R.E all day long, at home and at work, and wake up the next morning with a full tank. In fact, the more we use, the more there is, because every time people receive some A.R.E they discover more of their own internal supply and start giving away the overflow."

Lee Cockerell
Look out for the next strategy to be summarised, "Stay ahead of the pack!"