"It's not the magic that makes it work; it's the way we work that makes it magic."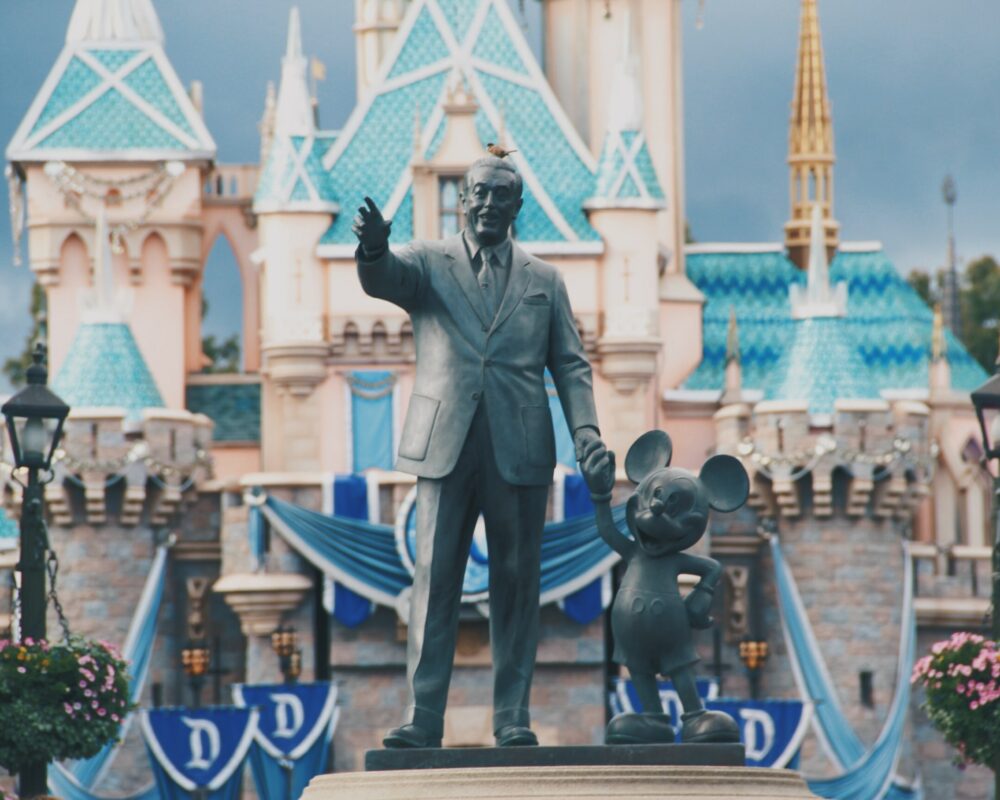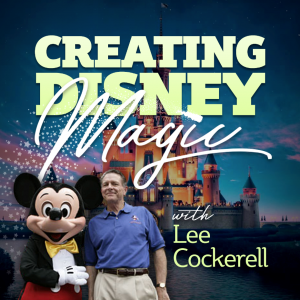 Just over a year ago I came across a weekly podcast series Creating Disney Magic which features insights and inspiration from a former Executive Vice President of Operations at the Walt Disney World® Resort, Lee Cockerell.
Billed as "lessons on leadership, management and customer services from a life at Disney",  I was soon a regular listener of the series; consuming 4 or 5 episodes every time I took the dog for a walk and on a mission to listen to the entire back catalogue before Christmas (over 130 episodes at that time!).
The fact I succeeded was, in part, due to the number of walks my large German Shepherd, (Anakin) needs each day. But it was also due to the simple fact that each episode delivered the goods for me – straightforward ideas that could easily be adopted by multiple organisations, shared by a leader who knows what he's talking about and predominately focusing on lessons and experiences gained during his tenure with Disney.
For my money, there's no organisation in the world that's better at the consistent delivery of outstanding customer experiences (be that theme park rides, merchandise, the cleanliness and order of their environment and so on) coupled with customer service that leaves people with awesome memories that people of all ages have when they visit a Disney park. 
The organisation never sits on its laurels; choosing instead to have a heathy dissatisfaction with the ways things are, constantly innovating with new products, services and processes which have one outcome in mind; the delivery of the Disney mission in order to achieve their clear Vision.
As you've probably guessed by now, I think it's fair to say I'm a fan of Disney and what it does, but I'm equally a fan of how it does it. So having the chance to pick up best practices and inspiration from Lee's podcast seemed a no-brainer to me. But for me, what really makes this podcast stand out, is the heavy dose of pragmatism with which Lee approaches the topics at hand. Always the consummate professional, Lee doesn't shy away from telling you how he sees things and that can sometimes include facing some hard truths.
It wasn't a big leap for me to move from the podcast to the books that Lee has written over the years. Time Management Magic and The Customer Rules are excellent reads, stocked full of wisdom and practical suggestions for anyone who wants to improve their productivity or the customer service their teams provide.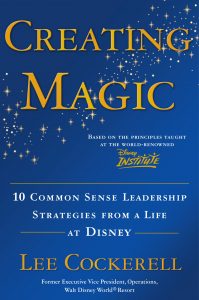 Of course, trust me to do things in the wrong order, but I eventually got round to reading Lee's first published book Creating Magic (and the inspiration for the weekly podcast came) having read his later works first! I suppose it doesn't really matter which order Lee's books are read in (it's NOT like the debate on which order you should watch the Star Wars movies – by the way, there is NO debate!) as they all stand on their own merits. 
At this point, I should probably point out that the common sense leadership principles that Lee writes about in Creating Magic, were the same leadership lessons that he was teaching to his own team in 1995, which, once these took hold, led to clear and measurable results:
The % of guests returning increased
The scores on leadership evaluations improved dramatically
Employee turnover dropped to lowest in the hospitality industry, and a third of industry average. 

 
Later on, these same leadership strategies became the heart of the Disney Institute's "Great Leader Strategies", which remain to this day the primary resource for developing the 7,000 leaders at Walt Disney World ® Resort.
Hopefully you're intrigued enough to want to know a little more about the 10 leadership strategies that Lee writes about in Creating Magic and which Disney leaders are still exposed to everyday in their development? 
Yes, well, the good news is that before you rush and buy the book (which you really should do!) I thought it might help to summarise the key messages which have resonated with me. I'll be publishing a series of blogs over the next few weeks, where I'll cover all 10 of the leadership strategies below, and share my thoughts on why I think they're valuable for any leader to learn and emulate.
The 10 Leadership Strategies 
Remember, Everyone Is Important

Break The Mould

Make Your People Your Brand

Create Magic Through Training

Eliminate Hassles

Learn The Truth

Burn The Free Fuel

Stay Ahead Of The Pack

Be Careful What You Say And Do
Develop Character

From the very beginning of the book, Lee makes his case that it's the extraordinary service (delivered by the passionate employees or Cast Members) that drives the experience that the customers (Guests) have, which in turn is the key reason that so many of them come back again and again.
The Disney formula for success – Leadership Excellence + Cast Excellence = Guest Satisfaction = Business Results – is decoded throughout the book via the strategies Lee shares but he's clear from the get-go that none of this "just happens by magic." Indeed, he regularly states that "It's not the magic that makes it work; it's the way we work that makes it magic."
It might surprise people at first to know that for Lee, the customer does NOT come first. Leadership comes first. And that the people who take on leadership positions understand that leadership is more than a role; it's a responsibility.  
So, please do look out for my next blog post, as I dive into the first of Lee's leadership strategies "Remember, everyone is important!"
In the meantime, do subscribe to Lee's weekly Creating Disney Magic podcast or have a listen to my own discussion with Lee on our podcast series, Multi-Site Masters.
"Being a leader means doing what has to be done, when it has to be done, in the way it should be done, whether you like it or not, and whether they like it or not."  
Lee Cockerell