Time management is decision management.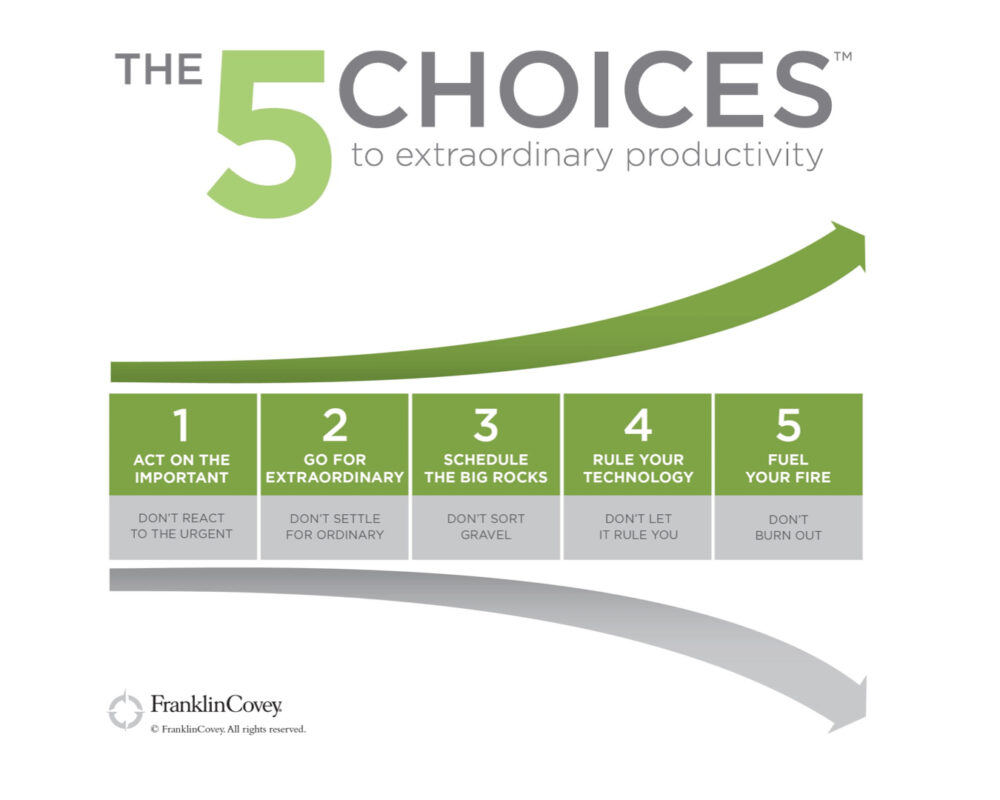 "I'm as proud of many of the things we haven't done as the things we have done." Steve Jobs
I discovered some time ago that the secrets of effective time management can be distilled into just a few ideas. The tricky part (as ever) remains in having the discipline to consistently implement these ideas against the never-ending distractions and interruptions that modern life throws at us every single day.
A quick Amazon search of time management books reveals over 70,000 such titles available; I've no doubt some of them are even good!
Now, even though I'm sure I've not read even 1% of Amazon's available selection, I'm going to go out on a limb to predict that they share some universal lessons for all of us:
It's not about doing more: the most productive people don't get everything on their to-do list completed. They do, however, pay attention to getting the most important things done – in both their personal and professional lives. Being able to identify the difference between what's urgent and what's important is perhaps the first essential skill of productive people.
You need a system that works for you: the most productive people don't get the most important things done by accident and certainly not on a consistent basis. They have a system, an approach to time management and productivity that they stick with, in a disciplined and intentional manner.
You can't be productive all the time: the most productive people do fall off the productivity wagon from time to time, whether through an unexpected event or consciously deciding to dial down their time management focus (for example, when they take a break from work, which in itself boosts productivity… but that's another blog!) What sets them apart from others is their ability to pick themselves up and to get back into their system when they do break their productivity routines.
In my experience, effective time management never just happens and certainly not on a continual basis. Put another way, no one consistently drifts to where they want to be; they must be disciplined and have a system to be methodical about implementing their plans.
I'm not suggesting the system has to be onerous or overly time-consuming, but there needs to be some routine; there must be some time invested in being more intentional and productive.
FranklinCovey's signature programme on time management, "The 5 choices to extraordinary productivity" is one of the best solutions available to help individuals, teams and organisations to make more selective, high-impact choices about where to invest their valuable time, attention, and energy.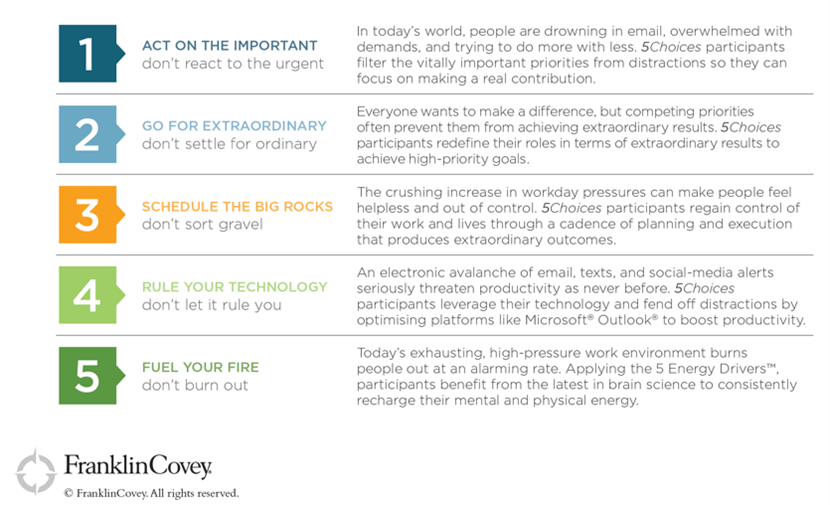 I experienced the power of this programme some years ago and have maintained (for the most part) a clear focus on my most important goals, at work and at home. The content helps to achieve what author Michael Hyatt refers to as, "The double win: Succeed at work. Win at life!"
I believe there are three elements that sets "The 5 choices to extraordinary productivity" solution above and beyond so many other time management programmes.
Firstly, the content is designed to be an ongoing solution best delivered, I believe, over several weeks in short, two-hour sections. This is preferable to a single one-off event; you know the ones that promise to – but never do – fix all the issues in a one-day course!
Secondly, it's the emphasis that's placed throughout the sessions on both our professional and personal lives, and the importance of defining what good looks like in the roles that we play at work and at home. With a strong bias towards actions over the next 90 days, this helps participants become more specific about the individual commitments and activities they intend to implement.
Finally, the "The 5 choices" includes an excellent section on how to prioritise and schedule the most important priorities (or "big rocks"), which is linked to incredibly sensible best practices regarding the use of Microsoft Outlook. Known as the master moves in the programme, these top tips help us effectively manage the volume of emails, calendar appointments and tasks that the modern working life generates.
For anyone wanting to take back control of their time and their life and learn more about what we mean by decision management, this programme is an ideal, holistic solution to help guide and support you along the way. Once the preserve of large organisations with big budgets to spend, this programme can be run for the smallest team or organisation through MMU's partnership with FranklinCovey.
To find out more about "The 5 Choices to Extraordinary Productivity" solution to improving productivity and explore how MMU can bring this to life for you, please contact us and we can arrange a no-obligation call to discuss your needs. You can also download FranklinCovey's free guide, How to manage your time: 7 tips for doing what matters most.